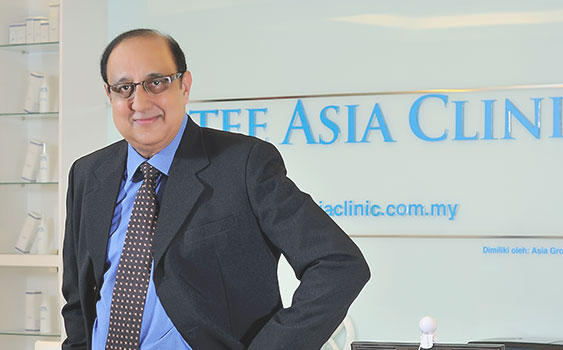 ASIA GROUP OF CLINICS
was founded by Dr Balbeer Singh S/O Gujar Singh in 1990. Since Dr Balbeer Singh had graduated from University of Mysore, he established his first clinic in Parit Jawa, a small town in Johor, Malaysia. The clinic offered the community health care services eg: daycare service, outpatient service, immunization program & radiologica l service. Apart from providing basic primary healthcare, the clinic also conducted medical surveillance and screening programmes, as well as mobile audiometry and spirometry for on-site clientele.
In view of the dedicated & excellent service provided, the clinic had been gaining popularity among the population. Throughout 20 years, the clinic has transformed into a chain clinics. Currently, Asia Group of Clinics have 13 clinics as a whole, running by 13 medical doctors and over 70 staff nurses. The service has been expanding to panel healthcare service, occupational health and safety consultancy services, surgical service and recently aesthetic service.

Simultaneously, the Asia group also assisted the government and statutory organizations such as SOCSO to conduct a series of public seminars and conferences. The objectives were to create public awareness and enhance industrial cooperation on occupational health and safety issues including safety and health management, noise control, radiation safety, building and construction safety, and indoor air quality. Since then, the Asia group has expanded rapidly and currently provides services to more than 1000 corporate and industrial clients through our network of 6 clinic branches. The market value of Asia Group Of Clinics in year 2015 is approximately USD 5 million.

In collaboration with Asia Group of Clinics, aesthetic division of the group was jointly established by Dr Balbeer Singh, Madam Satwant Kaur & Dr Chee Hui Bing. The first aesthetic clinic of the group, Estee Asia Clinic was commencing its business in April 2013. Throughout the business development, Estee Asia Clinic (Muar) had served as a platform for clients who seek for the art of beauty. For the excellence of the services, Estee Asia Clinic had received numerous compliments and praises.
Apart from it, Estee Asia Clinic (Muar) is playing a crucial role as a training centre for the new aesthetic doctors. Dr Chee Hui Bing, with his years of aesthetic experiences, had guided a number of young doctors to venture into this challenging field. Since its establishment from 2013, Estee Asia Clinic had expanded rapidly throughout Malaysia. Till date, it has 6 main branches which are JB, Muar, Kluang, Klang, Kepong, Batu Pahat, and the coming branch will be in Cheras.
To standardize the identity of the clinic, the group had unified the name of the clinic to be ESTEE CLINIC in 2015. Not limited to its clinical operational, in order to serve the wider population of the commons, Estee Clinic is also expanding its coverage into laser center. This new concept, ESTEE LASER CENTER will be established in Johor Bahru City Square as our first milestone.