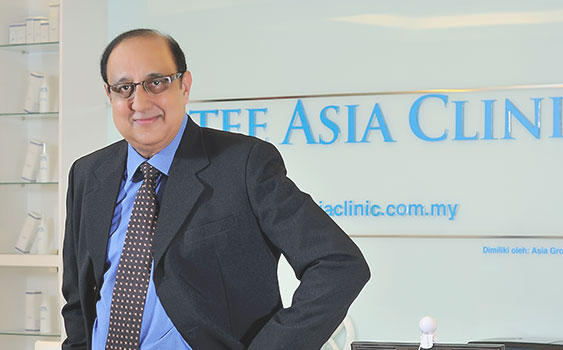 ASIA GROP OF CLINICS was founded by Dr Balbeer Singh S/O Gujar Singh in 1990. Dr Balbeer Singh had graduated from University of Mysore, India and he established his first clinic in Parit Jawa, a small town in Johor, Malaysia. The clinic offered the community health care services eg: daycare service, outpatient service, immunization program & radiological service. Apart from providing basic primary healthcare, the clinic also conducted fomema check-ups, medical surveillance and screening programmes, as well as mobile audiometry and spirometry for on-site clientele.
In view of the dedicated & excellent service provided, the clinic had been gaining popularity among the population. Throughout 20 years, the clinic has transformed into a chain clinic and expanding its services to Semerah, Muar, Bakri, Bukit Pasir and Serom.
Subsequently, Dr Jaiwant Singh who graduated from Monash University joined his dad in the year 2016 as a resident doctor in Klinik Asia Muar 24 hours. Dr Jaiwant has special interest in Dermatology and did his Diploma In Dermatology from Cardiff University. Dr Jaiwant went on to follow his father's foot steps to start up his own company which is now known as
Asia Medical Group
.
Currently
Asia Medical Group
has 20 GP clinics as a whole and is managed by 20 medical doctors and over 200 staff nurses, lab assistants , radiographers , clerks and admin. The service has been expanding to panel healthcare service, occupational health and safety consultancy services, surgical service and accident and emergency cases and skin problems solution (KLINIK ASIA 24 JAM MUAR).
Simultaneously, the

Asia Medical Group

also assisted the government and statutory organizations such as SOCSO to conduct a series of public seminars and conferences. The objectives were to create public awareness and enhance industrial cooperation on occupational health and safety issues including safety and health management, noise control, radiation safety, building and construction safety, and indoor air quality. Since then, the

Asia Medical Group

has expanded rapidly and currently provides services to more than 2000 corporate and industrial clients through our network of 16 clinic branches. The market value of

Asia Medical Group

in year 2023 is approximately USD 100 million.